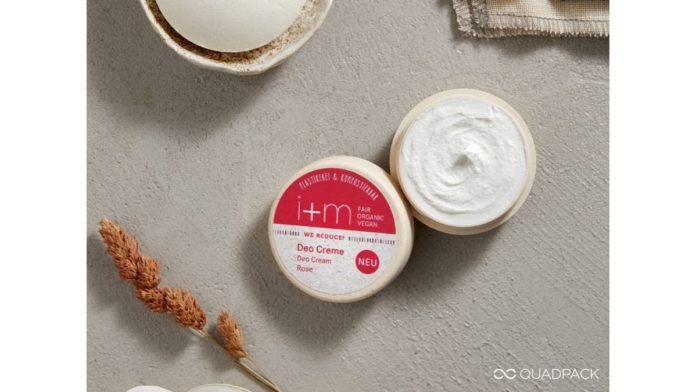 Publicity

Berlin-based company i-m has chosen Sulapac Nordic Collection by Quadpack for newcomers to its range of natural cosmetics.
The award-winning German brand i-m has launched a new product within its "We reduce!" line. It has marketed rose cream deodorant in innovative sustainable packaging: the 30 ml jar from Quadpack's Sulapac Nordic Collection, the international manufacturer and supplier of packaging for beauty products.
Composed of a compostable material of biological origin that biodegrades without leaving microplastics, this packaging was developed by Quadpack according to the highest durability standards. "For us, Quadpack is a partner, which has helped us from the beginning to make great strides in sustainable packaging. We've been looking for a plastic-free alternative for a long time, and the Sulapac pot offers all the advantages of it while being compostable and made up of renewable raw materials," explains J.G. von Kruse, Managing Director of the company i-m.
Proud of its history, always offering fair and vegan skin care products, the company has won three sustainability awards for its products. The "We reduce!" line was the last finalist in the German Sustainability Award Design 2021 thanks to its plastic-free packaging and certified natural cosmetics. Approaching the beauty products sector holistically while integrating ecology, animal welfare and the social economy, i-m chooses its partners according to their ability to develop the "deeply sustainable" cosmetic products of the future.
The Sulapac Nordic Collection by Quadpack pots fit perfectly with the concept: made of wood and plant binders, organically recyclable raw materials, the range offers a decisive and innovative approach to the challenge of plastic waste.