Fifteen associations from five continents are launching the first official international network of cosmetic clusters, Global Cosmetics Cluster, a gateway to the internationalization of SMEs.
Some 15 national cosmetics and perfume associations have announced the official launch of the Global Cosmetics Cluster, the global network representing the entire beauty industry value chain: ingredients, formulation, manufacturing, packaging, finished products, distribution and logistics, engineering/machine tools, assembly lines, testing and analysis/quality control, services, research and training.
The sector was valued at $380.2 billion in 2019 and is expected to reach $463.5 billion by 2027. The growth of the cosmetics market is due to the growing awareness of the importance of beauty and well-being in the female population and the attractiveness of the industry to women entrepreneurs and the workforce. The beauty market is innovative, dynamic and progressive, contributing to the improvement of the lifestyle, in addition to being helped by an ever-increasing per capita income in emerging countries1.
The new entity comprises 15 founding members, representing more than 3,700 companies on five continents. The board of directors of the new association is chaired by Cosmetic Valley (France), with Beauty Cluster (Spain) as Treasurer and Canadian Cosmetics Cluster as Secretary and supplemented by Cosmetics Cluster UK.
According to Marc-Antoine Jamet, President of Cosmetic Valley: "Global Cosmetics Cluster was initiated and launched by Cosmetic Valley in 2016 to unite our strengths and resources, share best practices in cosmetics and work on joint projects. And this process will be all the more important in the context of the health crisis that brings new challenges, promoting a new balance of power in the cosmetics sector at the global level, with new competitors, but also new opportunities. Challenges are difficult to overcome. We have to face them together. "Global Cosmetics Clusters" was set up to empower each of its members and make us collectively stronger. I am very tempted to quote Henry Ford, an emblematic figure of a previous industrial revolution who said: meeting is a start, staying together is progress, working together is a success. Let's work together and strengthen our cooperation! »
In 2019, its members have decided to form working groups with the aim of becoming an official association, which is now fully realized. In 2020, a new branch, Global Cosmetics Cluster-Europe, was created with the support of the European Commission's COSME programme.
The goal of the new meta cluster is to increase international collaboration, both for business and for research and innovation projects, creating networking and partnership opportunities, helping its members to grow.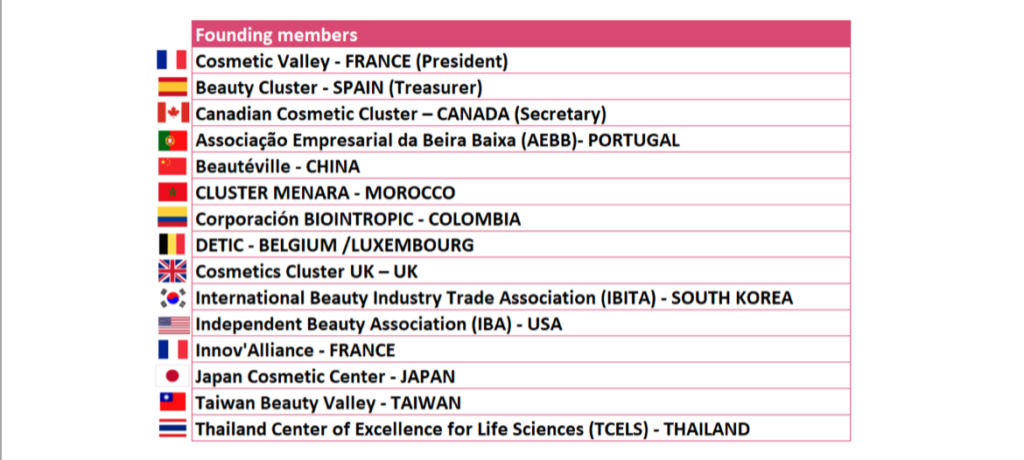 ---
1 https://www.alliedmarketresearch.com/cosmetics-market
Publicity