Medelpharm announces the signing of a new exclusive representation agreement for the entire range of capsule fillers and primary and secondary packaging solutions from Italian manufacturer MG2 on the French and Belgian markets.
With this partnership effective September 1, 2021, Medelpharm intends to strengthen its leading position in terms of powder processing from R&D to production in the pharmaceutical, nutraceutical and cosmetic sectors.
By becoming the new representative of the MG2 company, Medelpharm adds a new string to its bow and at the same time makes a remarkable entry into the capsule encapsulation and filling market.
MG2 is a world-renowned manufacturer of production-oriented tools and has been a major player in the capsule filling machine market for 55 years. The company took into account the challenges related to R&D very early on in order to develop versatile and adaptable products with multiple uses. A true reference in its field, MG2 has two divisions:
- a "Processing" division which groups together the historical activities of the company, including the range of capsule fillers (see details below), and in particular the Flexalab (R&D capsule filler), MG Compact (capsule filler for medium production), and Planeta (high speed capsule filler) machines.
- a "Packaging" division whose mission is to design primary and secondary packaging solutions for the pharmaceutical, cosmetics and food sectors. In particular, its new high-performance "star" machines, Kartos (intermittent motion cartoning machine) and BliStar (intermittent motion blistering machine), have many assets that should enable them to quickly become a major success.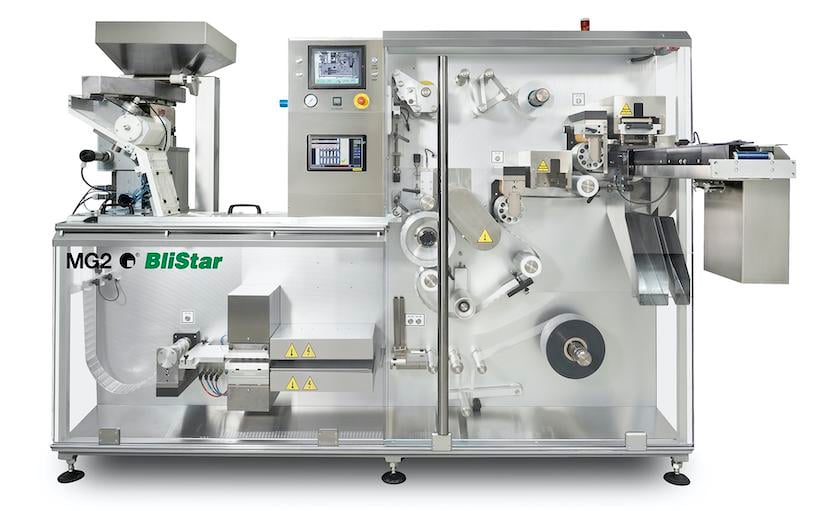 For its part, Medelpharm already offers a global R&D and production service. This covers R&D consulting, the manufacture of R&D equipment and the distribution of production and R&D equipment.
The MG2 range of capsule fillers is an excellent addition to Medelpharm's portfolio of products and brands and is in line with the challenges of product development in the pharmaceutical, nutraceutical and cosmetic industries.
This partnership between Medelpharm and M2G allows to answer perfectly to the current needs of the industrialists in the field of the treatment of powders and dry forms.
Productivity and quality are assured: the players in these industries are subject to productivity and quality imperatives, and therefore need safe and efficient R&D and equipment.
The challenges of transposition are mastered: development methodologies are evolving and it is therefore essential to focus on a smooth transition from R&D to industrial scale.
Quality by Design" is at the heart of product development: known as "Quality by Design", this transposition approach is based on the collection of information from the first stages of development. The combined know-how of Medelpharm and MG2 provides an unparalleled response to this approach.
High-performance frosting machines
From now on, Medelpharm will represent exclusively in France and in Belgium the different capsule formers developed by MG2.
The capsule filling machines proposed by M2G have the particularity to be designed according to a continuous motion system which brings significant advantages in terms of performances and control.
In addition, these state-of-the-art machines offer maximum flexibility and scalability and are equipped with state-of-the-art weight and quality control systems. Furthermore, the MG2 capsule fillers offer the possibility to dose any type of product (powders, tablets, herbs, capsules in capsules, liquids, ...) with different combinations of dosages and production rates.
MG2 capsuleers are classified into three main categories according to their use:
Capsule fillers for R&D and laboratories: FlexaLAB - Microdose
Medium production capsule fillers: MG Compact - Suprema.
High speed production capsule fillers: Planeta and Planeta 200 - Tekna - G70 and G140.
Advertising