Greentech is pleased to announce that Myralys was honored at the In Cosmetics Korea trade show a few days ago, winning the Innovation Zone Best Ingredient Award 2022, in the Active Ingredients category. This new award recognizes the R&D and sustainable sourcing work carried out by Greentech teams. It also attests to the importance of the close partnerships Greentech has established locally in France, with both producers and academic laboratories.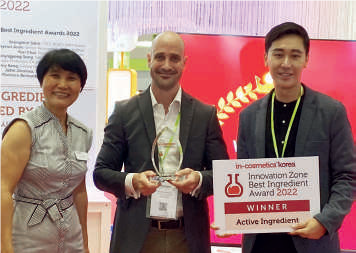 Myralys - Eyelid lift & eye rejuvenator
This new active ingredient dedicated to eye contour care reflects Greentech's 30 years of expertise in phytochemistry, green extraction and bioguided fractionation. Myralys is a Cosmos-certified organic active ingredient, highly purified in gentiopicroside, derived from organic wild yellow gentian roots, for rejuvenating the upper and lower eye contours. Harvested locally and sustainably in France by gentian farmers trained in good harvesting practices, gentian roots are rigorously selected by Greentech scientists for their gentiopicroside content, to obtain a highly titrated extract thanks to an advanced purification process.
To counter eye ageing, Myralys targets 6 interconnected biological pathways (multi-pathway approach): antioxidant and anti-inflammatory responses, angiogenesis, lymphatic function, glycation and dermal ageing.
For a look that defies time
Clinically tested on volunteers with aging eyes, MYRALYS lifts sagging upper eyelids and has a rejuvenating effect on the lower eye contour, reducing the severity of dark circles, puffiness and tear troughs, with visible and significant results as early as 14 days.