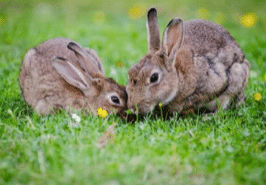 The Chinese government has approved two non-animal methods for testing cosmetics in China. The two newly approved tests are the direct peptide reaction test to measure skin sensitization and the short-term exposure test to analyze the potential for eye irritation.
This progress is due to the unique and innovative work of scientists and regulatory experts from the Institute for In Vitro Sciences (Institute for In Vitro Sciences, or IAVI), with which PETA has provided initial funding for the training Chinese scientists and the training of managers in modern non-animal methods.
"The acceptance of these two modern and ethical tests is a huge step forward for China," said Kathy Guillermo, vice president of PETA USA. "No animal should be poisoned or blinded for a consumer product - or for any other reason. "
In 2012, PETA USA revealed that some companies that previously did not use animal testing had quietly started paying the Chinese government to test their products on animals so that they could be sold there. . At the time, animal testing was required by law for any cosmetic product sold in China. PETA US immediately contacted the leading experts in the field of non-animal testing methods at IIVS and provided them with the initial grant to start their work in China. IIIVS scientists have successfully collaborated with Chinese authorities to gain approval for the first animal-free test method, the 3T3 NRU (Neutral Red Binding) In Vitro Phototoxicity Test , used to test the potential toxicity of cosmetic products. when they come into contact with sunlight.
In 2014, the Chinese government announced that it would accept the results of non-animal testing methods, but only for special-purpose cosmetics made in China. Animal testing is always required for all imported cosmetics and special purpose cosmetics, regardless of the place of manufacture.
PETA USA's Beauty Without Bunnies database currently lists more than 3,800 companies that have made the compassionate choice by pledging not to test on animals anywhere in the world.
PETA, whose motto says in particular that "animals do not belong to us and [that] we do not have to use them for our experiments" is opposed to speciesism, an ideology which postulates the superiority of humans over others animals in order to justify treating them as if they were only commodities.