Fifty years after its creation, Prad is still a French and independent company, now specialized in the decoration of recyclable glass and aluminum containers. Chanel, Coach, Diptyque, Lalique, Parfums de Marly and many other prestigious brands are among its references.
Prad pursues its ambition of innovation and development in strict compliance with its quality and CSR policies by investing and developing new technologies associated with metallization and strengthening its R&D, in order to maintain a high level of satisfaction with its customers.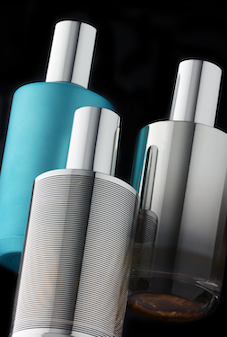 Prad masters the following key technologies: liquid metallization, lacquering, laser finishing and screen printing, pad printing and hot stamping techniques. Used individually or in combination, they allow a wide range of renderings, shades, color and/or material effects, and extreme precision of strokes. The decorations made, of an irreproachable quality, seduce the eye as much as they encourage touch, and accompany the brands in the sensory experience they wish to offer to consumers.
The company relies on its recent equipment, practices and industrial processes that respect the environment, enhanced by the professionalism and involvement of its team, oriented towards customer satisfaction. The company adheres to the Industry of the Future 2.0 programme of the Auvergne-Rhône-Alpes Region and is an active member of the UN Global Compact Programme.
Prad, pioneer
Gérard and Marie-Anne Béranger created Prad in 1972. Initially, the vocation of the company is the decoration of the caps of perfume bottles and cosmetic jars. At the instigation of a customer, the company developed glass metallization varnishes and became a specialist in glass metallization.
Aware of the creative and industrial advantages of varnishing glass bottles, Gérard Béranger invented glass lacquering in the 1980s. This innovation is materialized by the launch of Rose Cardin, the first line of lacquered bottles of a selective perfume.
In 1998, Nina Ricci perfumes entrusted Prad with the realization of the complete decoration of the Deci Delà perfume consisting of a lacquering in several colors and a relief screen print, a new innovation signed Prad.
By successively integrating the different printing techniques, Prad offers a very wide range of organic finishing processes. Always eager to develop its know-how through useful and environmentally friendly technologies, the company innovated once again in 2009 by developing a liquid metallization process that gives metallized coatings all possible shades of transparency and gradient, in gloss or satin and in a vast universe of colors.
Since 2016, the company has been managed by Bruno Pierrain, its current owner.
Publicity