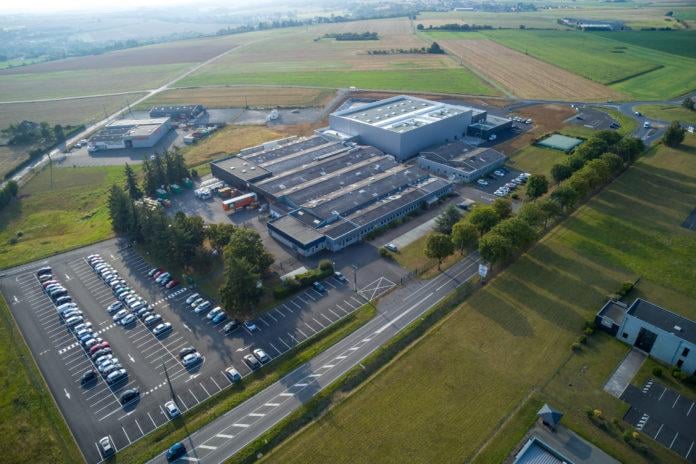 Ranked among the top employers in its region, the French site Socoplan d'Arcade Beauty celebrates its fiftieth anniversary under the best auspices. Its activity related to cosmetic samples, which is growing significantly, is equipped with a new storage warehouse with an additional capacity of 400 m².
Based in Saint-Jean-de-Thouars, the Socoplan site manufactures, prints and packages skincare and make-up samples. Its production lines are dedicated to product typologies specific to the group. Some of them such as the labels ScentSeal, BeautiSeal, LiquaTouch..., or the BeautiPod are technologies from the United States. Their relocation to Europe allows Arcade Beauty to produce as close as possible to its markets. Socoplan thus guarantees a fully integrated production: printing and decoration, manufacturing, in-line filling, microbiological and quality control, delivery of finished products.
A story of sachets
Created in 1970 by a pharmacist, Socoplan manufactures its first shower gel samples for the hotel industry. At the beginning of the 80s, the site distinguished itself in various markets Thanks to a refocusing on the cosmetics sector, Socoplan invented in 1986 the concept of the press bag. Then the site expands its activity under the aegis of Bioplan which merges in 2014 with Arcade Marketing to create the Arcade Beauty group. Its turnover is now around 50 million euros for 250 employees.
50 years of maturity
For its 50th anniversary, Socoplan inaugurates a new storage area of 4000 m2 in direct connection with the factory. This relocation allows it to optimize its supply chain by sourcing directly from production. A secure sampling area (overpressure, filtered air, etc.) now allows the integrated laboratory to test customers' bulks in real time from their receipt to the release of batches for the delivery of finished products. This new configuration makes it possible to guarantee optimal safety of the products manufactured and to reduce the carbon impact thanks to the elimination of the inter-site transport that existed before.