The LVMH group inaugurated, on September 15, the Fontaines Parfumées, the new perfume house shared by Louis Vuitton and Christian Dior . Located in the heart of Grasse, the estate will strive to promote the finest know-how of French fine perfumery.
Entirely dedicated to the creation of perfumes, the Fontaines Parfumées were inaugurated by Bernard Arnault, Chairman and CEO of LVMH, and the Houses of Louis Vuitton and Christian Dior, united for the first time within a unique ecosystem, which federates the all perfume know-how, from the flower to the bottle. The master perfumers of the two houses, François Demachy for Christian Dior and Jacques Cavallier-Belletrud for Louis Vuitton, thus find their land of origin, the one that saw them grow up and learn the nose job.
By setting up their creation workshop in Grasse, Louis Vuitton and Christian Dior are contributing to the preservation of regional perfume flowers, guaranteeing exceptional creation, and perpetuating the Grasse heritage of four centuries of history and innovation. Land of excellence in perfumery, Grasse is the only site in the world that brings together the know-how of growers, artisans and perfumers, working in perpetual interaction at each stage of the creation of a perfume.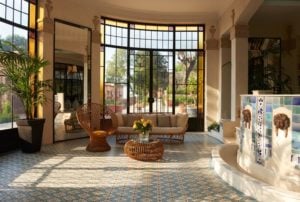 A jewel in the heart of the city, the Perfume Fountains are an emblematic area of the identity of Grasse and its history as a city of leather which has become the world capital of perfume. Abandoned since the 1970s, the tercentenary Bastide has been given new life. With a dual aim: to preserve its authenticity in the pure respect of local knowledge, while the part of a twenty-first century modern and innovative.
After four years of heritage research and a year of work carried out by local craftsmen and companions, the Perfume Fountains are reborn. In addition to a high-tech perfume laboratory or the Moulin transformed into an olfactory training workshop, the estate houses a garden with a very rich plant palette: more than 350 essences, including exceptional roses alongside tuberoses and even tuberoses. about twenty different mints. A source of inspiration for François Demachy and Jacques Cavallier-Belletrud.
Louis Vuitton and Christian Dior have made a lasting commitment to supporting Grasse growers through the signing of special partnerships. The Perfume Fountains will also be a place of sharing: apprentices will be welcomed by the two Master Perfumers to be trained. " The inauguration of the Fontaines Parfumées reflects our desire to perpetuate our know-how. Through the establishment of this new perfume house in Grasse, LVMH is once again committed to preserving, transmitting and promoting the best know-how in their region of origin ", declared Bernard Arnault, Chairman and CEO. from LVMH.
Photos © Christian Dior Parfums – Tina Hilier
Publicity