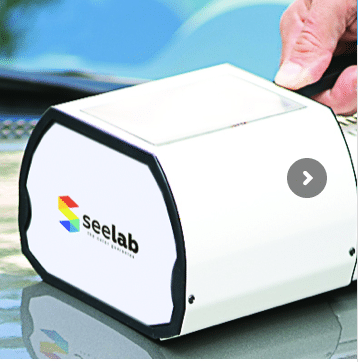 Seelab is partnering with the Bio-EC Laboratory and the University of Cergy-Pontoise to bring innovations in skin cosmetics through appearance measurement and its GP150 spectrophotometer.
The project with Bio-EC consists of implementing, on a population of volunteers, a method of objectification of the radiance of the complexion, by obtaining in a single, fast and repeatable measure two parameters characteristic of brightness: color and shine, thanks to the direct measurement of the BRDF. The expected result is proof of the effectiveness of a skincare cream. On the other hand, the project with the SATIE laboratory at the University of Cergy Pontoise makes available to the cosmetic industry, in the Cosmetomics platform, DIRECT measurement devices of BRDF (brightness and color) of Seelab for application to the characterization and objectification of the appearance of cosmetic products, their components and their performance, in vivo and in vitro. For study services based on innovative measures, manufacturers can contact The Cosmetomics.
Guillaume Turpin, Managing Director of Seelab, said: "For a designer of measuring instruments like Seelab, working with the Bio-EC laboratory allows us to develop methods of measuring trades applied to the highly promising field of cosmetics. On the other hand, with the University of Cergy-Pontoise and its Cosmetomics platform, Seelab is in contact with a laboratory always close to the industry, with a broad application scope. This allows Seelab to showcase its today's technologies and prepare the measurement instruments of tomorrow. »
Elian Lati, Managing Director of Bio-EC, notes that "the use of Seelab's GP150 opens the door to new studies on the objectification of the appearance and performance of cosmetic products."
Seelab is a French designer and manufacturer of appearance measurement and analysis solutions.
Seelab, and appearance characterization: Seelab's GP spectrophotometer is the only portable device to combine brightness measurement and color measurement, via direct BRDF measurement from multiple angles. This gives objective and encrypted access to these characteristic aspect settings.