For more than 25 years, DuPont Surlyn has been a leading product in cosmetic packaging and personal hygiene products. Combining lightness, crystalline transparency and natural brilliance, this ionomer resin remains, even today, a preferred solution among brands and manufacturers.
What is less known, however, is that in recent years, DowDuPont Transportation and Advanced Polymers (T-AP), one of DowDuPont Specialty Products' business lines, has expanded its offering to other types of cosmetic applications to help its customers respond to emerging market challenges and trends.
To meet the key packaging requirements of cosmetics and personal hygiene products, T-AP offers a wide range of resins: Delrin, Crastin, Hytrel, Hytrel RS, Zytel, Zytel RS and Sorona - all high-performance semi-crystalline technical resins that can be used in both rigid and flexible applications.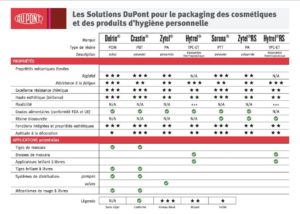 Delrin, Crastin, Hytrel, Hytrel RS, Zytel, Zytel RS and Sorona comply with even the most stringent regulations governing cosmetics and food contact. The world's leading cosmetic brands also specify T-AP resins because they provide high mechanical properties and chemical excellence, while offering the decorative ability and shiny surface that contribute to the beauty of many end products. These resins are also specifically designed to enhance performance and be in direct contact with formulations, inspiring the creation of packaging that blends beauty and functionality to perfection.
The determination of T-AP to offer state-of-the-art solutions to the cosmetics and personal hygiene industries is driven by several key market trends.
First of all, T-AP is a pioneer in the increasing use of polyester at the expense of polyoxymethane (POM) in cosmetic packaging. An excellent example is the PBT Crastin, a high-performance polymer that has more decorating possibilities and is used for distribution systems, mascaras and lipsticks.
DuPont Crastin PBT is particularly popular with customers because it allows for superb surface appearances and a good balance of stiffness and tenacity, reducing the risk of retassures. Finally, the mechanical properties of the Crastin PBT allow decorating techniques such as painting, hot stamping or metallicization - all qualities that help cosmetics producers surprise and delight their customers.
The second trend that T-AP is fully dedicated to satisfying is the growing need for more cost-effective and eco-responsible packaging solutions in both design and resource use. The development of bio-based polymers, such as the Hytrel RS, Sorona and Zytel RS brands, is at the heart of T-AP's efforts. The use of these bio-based resins significantly reduces the global carbon footprint of brands and manufacturers. It also offers recyclable polymers in PET feeds, such as Sorona, which helps develop products that fit into the circular economy.
Looking ahead, T-AP is exploring ways to produce simplified packaging structures, in which high-performance materials can integrate multiple functions - resulting in fewer components for the same product. T-AP is already implementing the integration of functions in other sectors such as healthcare, and is looking forward to using its know-how to further advance cosmetic packaging and personal hygiene solutions. Indeed, covering the needs of brands and manufacturers is not only responding to market trends, but also pioneering.
Finally, only collaboration allows real innovation. First of all, in addition to the most diverse range in the industry, T-AP offers more than twenty years of expertise in the development of applications in the field of packaging and distribution systems. But what makes it unique is its approach to developing innovative solutions for brands and manufacturers, which is to maintain a link with industry partners and to work closely with them, from the very first stage of the simple idea to the final invention. This allows the company to grasp trends and proactively anticipate needs from the outset. T-AP is constantly looking to share with its customers its cutting-edge technology and in-depth knowledge of tools, so that it can develop the right solution in the right place. Throughout the process, T-AP works with partners to learn and discover the innovative solution for each particular need.
Another crucial element of T-AP's approach is its dedicated team dedicated to the cosmetics and personal hygiene industry. This team provides global technical expertise in application development, design capabilities and technical support to help customers optimize tools, select the best product from existing ranges and support them through the various phases of the production cycle.
All of these factors help society stay ahead of the world and fulfill its commitment to finding solutions tailored to the needs of its customers in the cosmetics and personal hygiene products industries.
For more information, please visit http://www.dupont.com/products-and-services/plastics-polymers-resins/thermoplastics/uses-and-applications/polymers-for-cosmetics.html
Publicity